Our defogging process removes moisture from between the panes of insulating glass.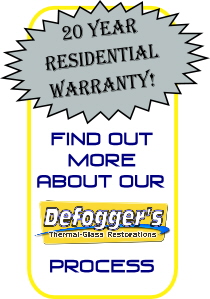 Where it once was foggy -- It will be dry!
Our repair method has dried the air space in thousands of thermal-glass units and kept them dry for years.
Saves Money! Our restoration process is much less expensive than the replacement of the sealed glass unit.
Better for the environment! Keeps all those old sealed units out of landfills. Saves the resources used to make new ones.
Thermal 'R' value of the insulating glass unit is restored.
We restore thermal-glass units in all types of windows:
Residential, Commercial, Institutional -- Wood, Metal, Vinyl
Our Defogger's restoration process solves the problem of foggy windows and we provide a 20 year transferrable warranty!
Defogger's Thermal-Glass Restorations provides the affordable alternative to having to buy new sealed insulating glass units. If you have windows that are fogged up between the panes of glass.... save money.... we can fix them!
Defogger's Thermal-Glass Restorations is a service of AccuVersal Residential Window & Door Repair:
AccuVersal Residential Window & Door Repair can make your older windows to work like new.
We've been repairing and restoring all types of windows and doors for many years.
Don't waste your money buying new windows...
We can fix the ones you already own!
For more info on our other window repair services please visit our AccuVersal page.
For further information about our Defogging process, see our Detailed Explanation section.